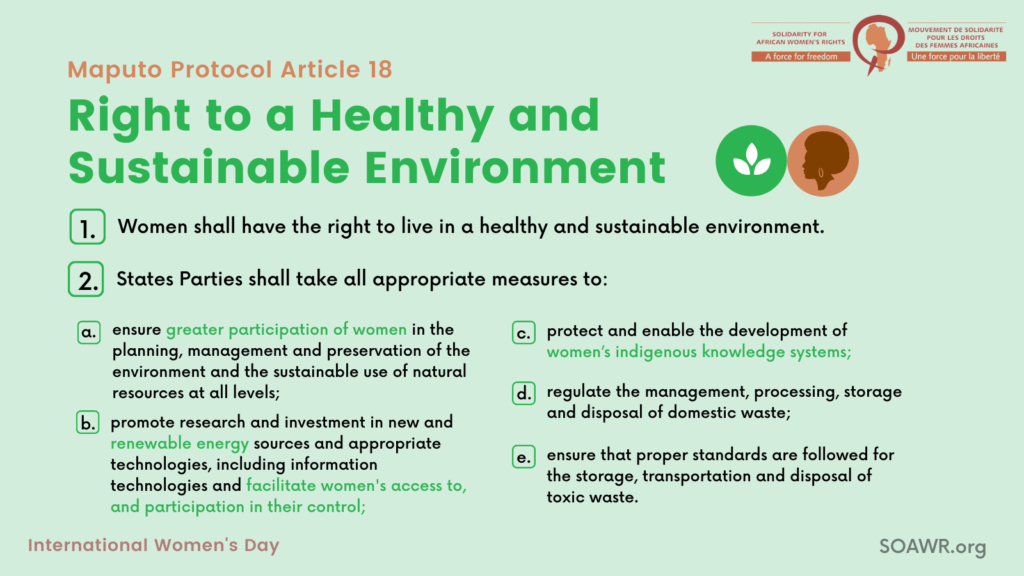 Why is it important to have these specific rights legally bound across the continent?
An excerpt from Joanita Babirye's article 'Saving the Planet means Defying Patriarchy: Strive for Inclusive Climate Solutions' (via AfricanFeminism) provides a poignant answer,
"Women and men experience climate change differently due to socio-cultural structures that have been built over time in largely patriarchal societies. Men's access to and exercise of power means they have considerable control of resources over women. Due to the roles that still exist, where women are still very much looked as caretakers and food gatherers, this role comes with frequent interaction with the environment. Women in most of Africa are still responsible for fetching water, firewood and they still cultivate more than half of the food consumed, even as they have no much rights over the land on which the food is grown.
The inequality that exists and manifests affects the way communities and individuals are adapting to climate change. Society has built systems that make the difference noticeable and worse still created a big gap in access to spaces of decision making in regards to climate action. With these skewed power relations, women's vulnerability has worsened in the face of climate change."
Therefore, it is necessary to have these specific rights guaranteed specifically to African women.
The Maputo Protocol was officially adopted in May 2003, so what progress has been made to implement Article 18?
There have been some encouraging achievements over the past almost 19 years since the Protocol was adopted. Some examples include: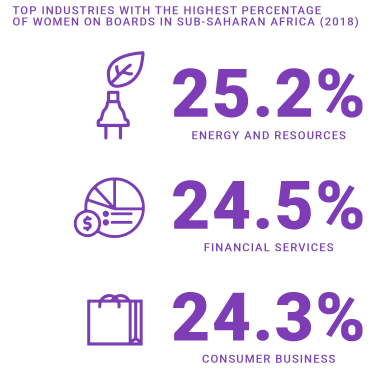 In 2015, the 15 Member States of the Economic Community of West African States (ECOWAS) adopted the ECOWAS Policy for Gender Mainstreaming in Energy Access – the first-ever regional policy on gender-responsive energy development.


It has the following objectives:
Achieve widespread understanding of energy and gender considerations at all levels of society.
Ensure that all energy policies, programmes and initiatives, including large energy infrastructures and investments, are non-discriminatory, gender-inclusive, gender balanced and directed towards addressing inequalities, particularly energy poverty,
differentially affecting men and women in the region. 
Increase women's public sector participation in energy-related technical fields and
decision-making positions.
Ensure that women and men have equal opportunities to enter and succeed in energy related fields in the private sector.
The innovative policy sets an inspiring precedent for other states, regional commissions and international communities to follow. Indeed, in 2019, the Kenya Ministry of Gender introduced its own National Gender Policy. Ms. Phoebe Makungu, Assistant Director, Gender and Development of the Ministry of Energy stated, "We believe that the implementation of this policy will promote gender sensitive energy institutions and enhance inclusivity and participation of women, men and all the marginalised groups in the realisation of sustainable energy for all in Kenya. More so, it aims to ensure women do not just participate as beneficiaries, but play an active role as entrepreneurs in the entire energy value chain."
The uptake of renewable energy (relating to Article 18, 2b).


According to Brookings, "While lagging in terms of access to electricity, African countries are making strides in terms of access to renewable energy. In particular, the world has seen an uptake in the use of solar energy, the most popular form of clean energy, due largely to major gains in Asia and Africa. Africa has the largest percent of the population that use off-grid solar energy among all regions, and the percentage of its total population that uses off-grid solar electricity has nearly quintupled since 2011. Today, 60 million people in Africa use off-grid solar power as an electricity source."

African women are also pioneering many renewable energy efforts – both public and private. Giving just two examples of many,
i) Sharon Yeti is the CEO for Powerlive Zimbabwe, a leading energy provider generating clean, safe and sustainable energy solutions to women and their communities in Zimbabwe. Powerlive has sold, distributed and installed over 3500 solar home systems to the off grid and marginalized communities of Zimbabwe. Powerlive's mission is to end energy poverty with a gender lens as it's empowering women living in the rural communities. 85% of the sales agents and 40% of the technicians at Powerlive are women.
ii) Adepeju Adebajo is the CEO of Lumos Nigeria, leading an innovation-driven team with a commitment to provide solar-powered solutions to 1 million Nigerian households and small businesses by 2025. Adebajo is also an Advisory Board member of the Renewable Energy Association of Nigeria (REAN) and is active in gender-based organisations to increase female participation in the public and private sector.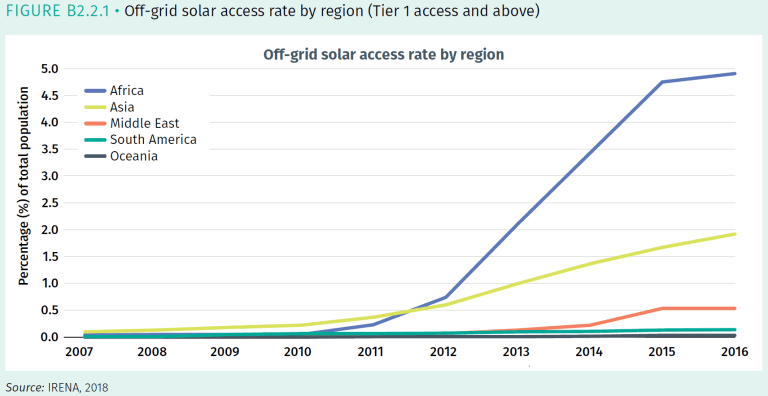 – South Africa: waste disposal and management companies have invested in new technologies that can efficiently manage waste collection. For example, these companies leverage user-friendly smartphone applications to facilitate prompt service, extra pickups, and bill payment through push notifications. Consequently, this technology has effectively enhanced cost-effective waste collection costs by simplifying the waste material collection processes. In addition, this technology has introduced automated waste management sensors that trigger instant alerts every time a container is full and needs service.
– Ethiopia: in 2017, the Ethiopian government transformed its Koshe dumpsite into a waste-to-energy plant. This effectively transformed, re-purposed, and revolutionised the dumpsite into incinerating approximately 1,400 tonnes of waste materials daily towards generating electricity. Therefore, this accounted for approximately 80% of Addis Ababa's rubbish re-purposed towards energy supply, with the city supplementing approximately 30% of household electricity.
– Kenya: through a company called Taka Taka, Kenya has actively managed waste collection, sorting, composting, plastic recycling, and purchasing waste from waste materials pickers. Consequently, this waste management project has enabled affordable waste collection services to low-income areas by augmenting the recycling system to approximately 90% of all collected waste material. This project has also led into job creation for women and youth. Furthermore, the waste material project reduced Kenya's gas emission effluents that resulted in a clean and healthy environment in Kenya. 
Despite this progress, much more needs to be done for states to fulfil their legal obligations outlined in Article 18 of the Maputo Protocol and to guarantee African women their Right to a Healthy and Sustainable Environment.
Firstly, Botswana, Egypt and Morocco must sign and accede to the Maputo Protocol. 
Secondly, Burundi, Central African Rep., Chad, Eritrea, Madagascar, Niger, Sahrawi Arab Democratic Republic, Somalia, South Sudan and Sudan must go beyond merely signing the Protocol and accede to its rights. The SOAWR Coalition is currently actively petitioning these governments to do so – find out how you or your organisation can get involved. 
The 42 countries who have ratified the Protocol must continue to implement Article 18, avoiding reliance on NGOs and activists to do the work. Provision 2 of Article 18 outlines clear State commitments that should be implemented in the law, in policies and strategies and in institutional reforms. 
Significant State commitments and initiatives are required to implement Provision 2c to meaningfully protect and develop women's Indigenous knowledge systems. 
Lastly, African women's Right to a Healthy and Sustainable Environment is an intersectional one and must therefore be implemented accordingly. These intersections and implications are succinctly explored in NGO CSW's recent Position Statement by African Feminists, Women's Rights and Civil Society Organizations.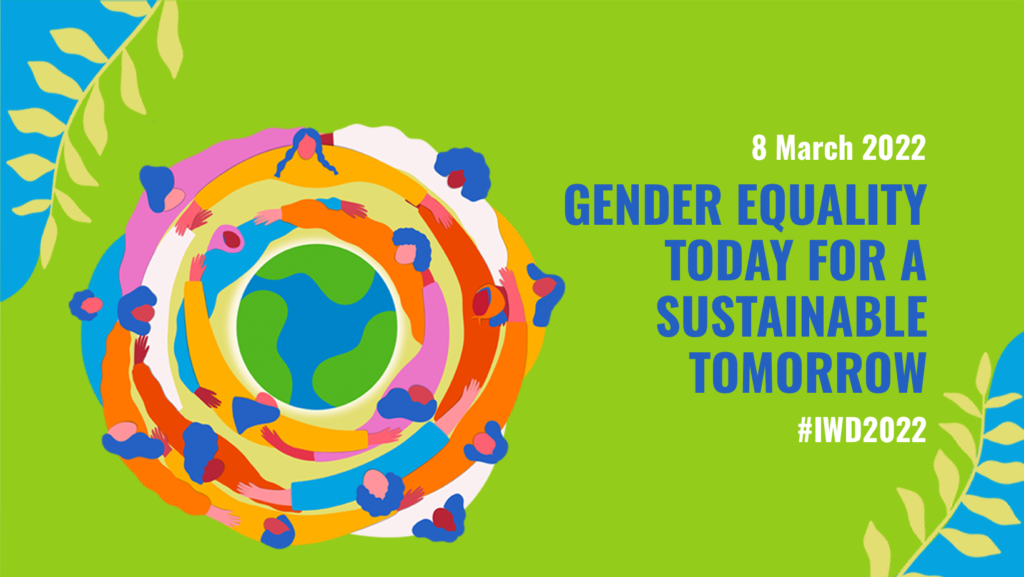 Image Source: Burcu Köleli for UN Women (2022).