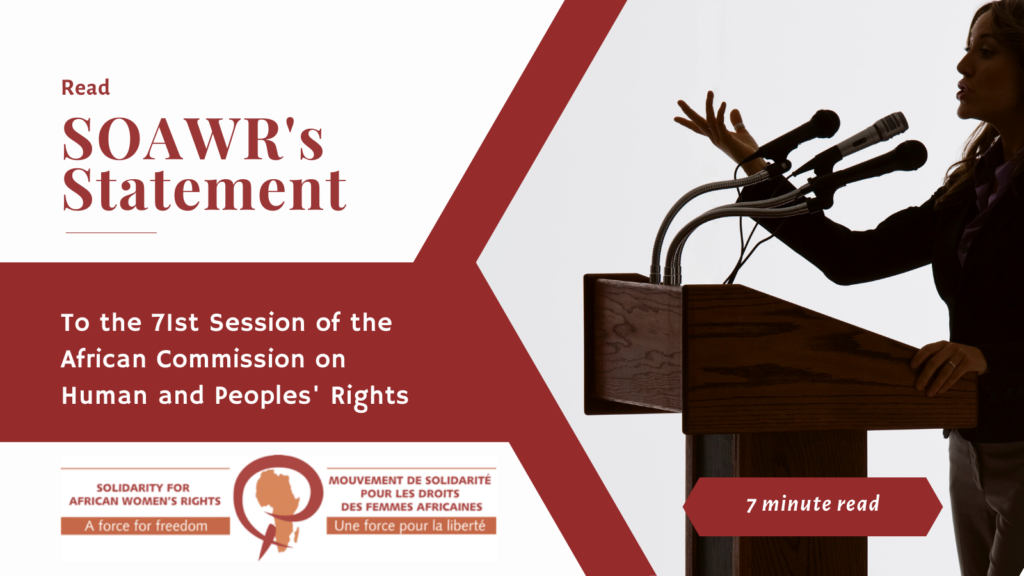 The SOAWR Coalition, with the support of member organisation Alliances for Africa, made a statement to the African Commission on Human and Peoples' Rights during the convening of the Commission's Ordinary Sessions taking place from 21 April to 13 May 2022.
The statement discusses:
The Need to Promote and Protect Women's Right to be Free from Violence during Kenya's Election Season
Harmonisation of Laws Prohibiting Child Marriage
Protecting the Sexual and Reproductive Health Rights (SRHR) of Women and Girls in Conflict
Addressing Sexual Exploitation in Africa
Ratification of the Maputo Protocol by the remaining 13 African Union Member States
You can read the full statement below.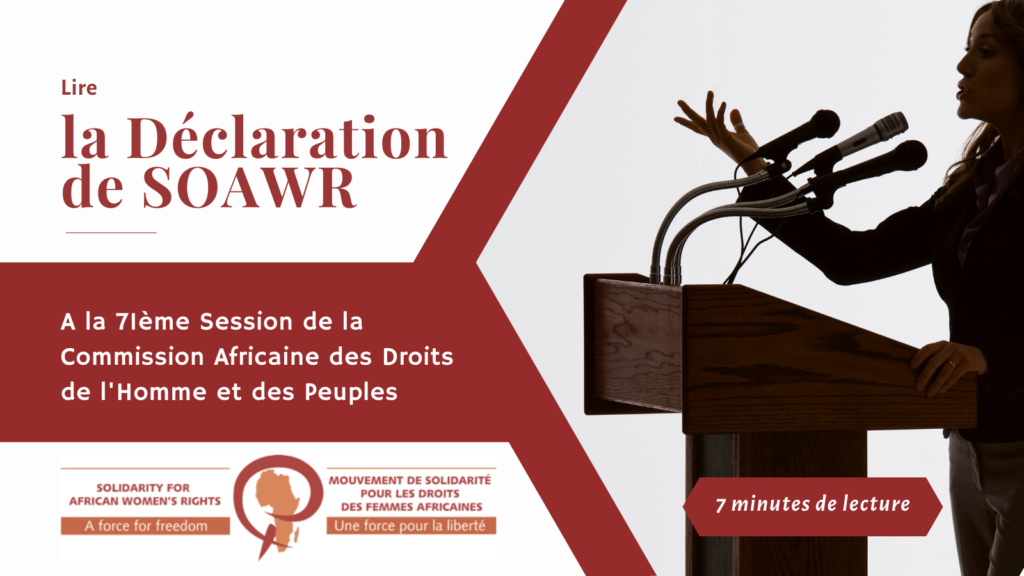 La Coalition SOAWR, avec le soutien de l'organisation membre Alliances for Africa, a fait une déclaration à la Commission Africaine des Droits de L'homme et des Peuples lors de la convocation des sessions ordinaires de la Commission qui se déroulent du 21 avril au 13 mai 2022.
La déclaration traite des sujets suivants:
La nécessité de promouvoir et de protéger le droit des femmes à ne pas subir de violences pendant la saison électorale au Kenya
L'harmonisation des lois interdisant le mariage des enfants
La protection des droits à la santé sexuelle et reproductive des femmes et des filles en situation de conflit
Lutte contre l'exploitation sexuelle en Afrique
Ratification du protocole de Maputo par les 13 autres États membres de l'Union africaine.
Vous pouvez lire la déclaration complète ci-dessous.