Today marks International Women's Day, a day where the world pauses to take stock of women's diverse achievements as well as the persisting patriarchal systems which undermine efforts to transform societies into equitable ones. This year's theme is 'DigitALL: Innovation and technology for gender equality', focussing on:
celebrating the women and girls who are championing the advancement of transformative technology and digital education.
exploring the impact of the digital gender gap on widening economic and social inequalities.
spotlighting the importance of protecting the rights of women and girls in digital spaces and addressing online and ICT-facilitated gender-based violence.
Here at the SOAWR Coalition, we are all about the Protocol to the African Charter on Human and Peoples' Rights on the Rights of Women in Africa (better known as the Maputo Protocol) and highlighting how this comprehensive treaty can be used by governments, regional bodies and local actors to promote, realise and protect the rights of African women and girls, both online and offline. 
#DigitALL for the Maputo Protocol 
The Maputo Protocol speaks directly to this year's IWD theme through: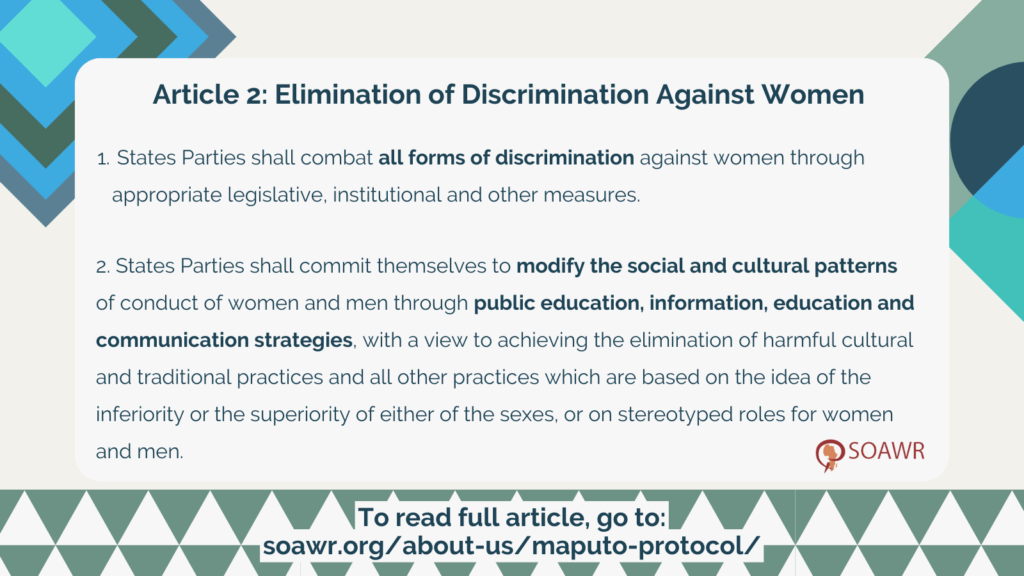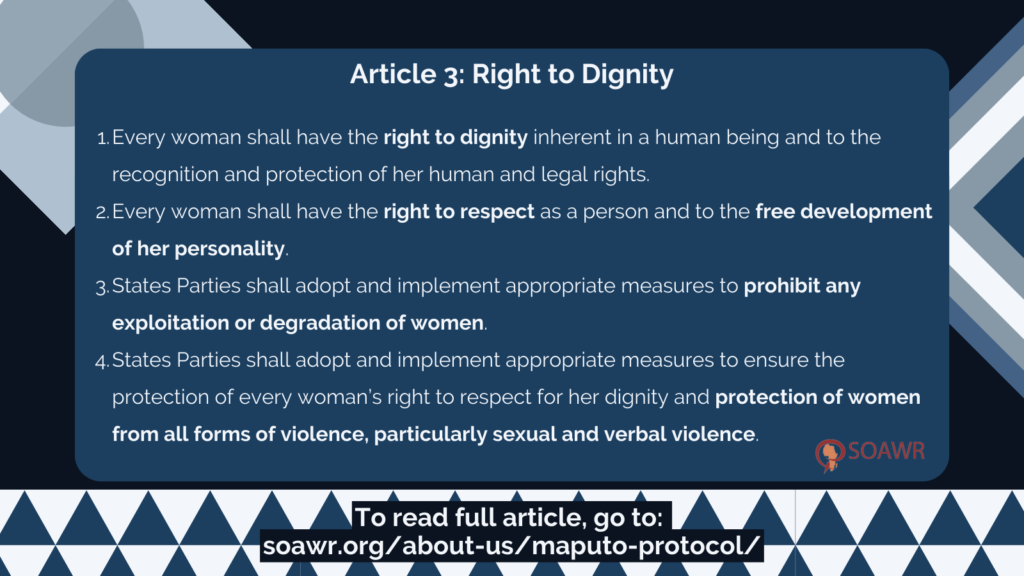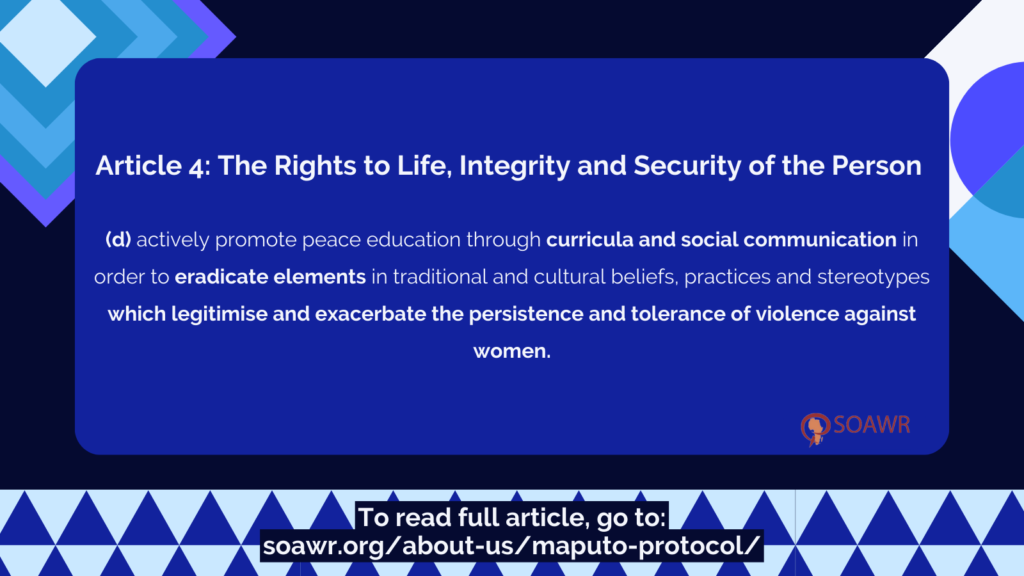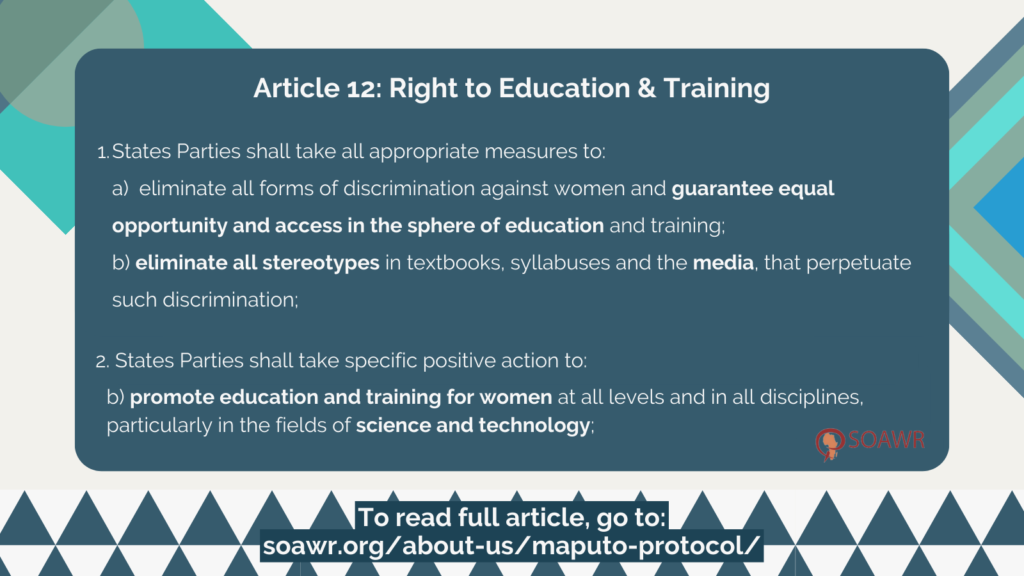 Positively, there are some fantastic examples of the implementation of these articles: 
Nationally: 
As evidenced in Make Every Woman Count's report (2021: pg 264), "Many countries incorporate science, technology and innovation in their national development agendas, as well as in their education sector plans. Several countries (Benin, Botswana, Burkina Faso, Eswatini, Kenya, Malawi, Mauritius, Niger, Nigeria, Rwanda and Zimbabwe) have adopted national policies in this regard. The National Science, Technology and Innovation Policy 2013–2022 of Gambia aims specifically to foster entrepreneurship among youth and women to enhance their employability. Under the 2013 ICT Policy for Malawi, the government shall mobilise financial resources for the implementation of ICT programmes for women and youth in coordination with NGOs and development partners." 
Additionally, whilst most African states have legislation against Violence Against Women and Girls and/or Gender Based Violence, some have gone a step further by specifically criminalising forms of online violence such as Benin, Nigeria and Kenya. 
Continentally: 
In August 2022, the African Commission on Human and Peoples' Rights passed the Resolution on the Protection of Women Against Digital Violence in Africa. Explicitly informed by the Maputo Protocol, citing Article 1, the Resolution calls on states to undertake awareness-raising programmes about the root causes of digital violence against women within the general context of gender-based violence. According to the ACHPR, when states effectively carry out this initiative, it will bring about changes in socio-cultural attitudes and remove gender norms and stereotypes, while promoting the respect of fundamental rights in the online space, particularly on social media platforms.
CSOs:
There are also innovative ways that technology and digital spaces have been used to curb violence against women and girls across the continent. For example, digital storytelling through the use of smartphones and other virtual tools have been used in East African communities to spearhead ongoing anti-child marriage and FGM campaigns in their villages. The youth populations receive training on the tools and can also take images and stories related to child marriages and FGM acts and report them to relevant authorities responsible for protecting children's rights for immediate interventions. This project by Msichana Empowerment, Girls Not Brides and Children's Dignity Forum provides tangible hope that digital technology and education can be used to advance the Maputo Protocol and ultimately, the rights of African women and girls and their enjoyment of them. 
Looking Forward 
Ahead of the 20th Anniversary of the Maputo Protocol in July of this year, the SOAWR Coalition continues to call on all African Union Members States to: 
1. Ratify the Maputo Protocol; twelve countries are yet to do so. 
2. Domesticate and Implement all rights of the Maputo Protocol and lift all reservations. 
3. Report on their progress in alignment with Article 26 of the legally-binding treaty. 
With these processes and innovations for safer, more inclusive and transformative digital spaces, African women and girls will continue to further enjoy their enshrined rights both online and offline.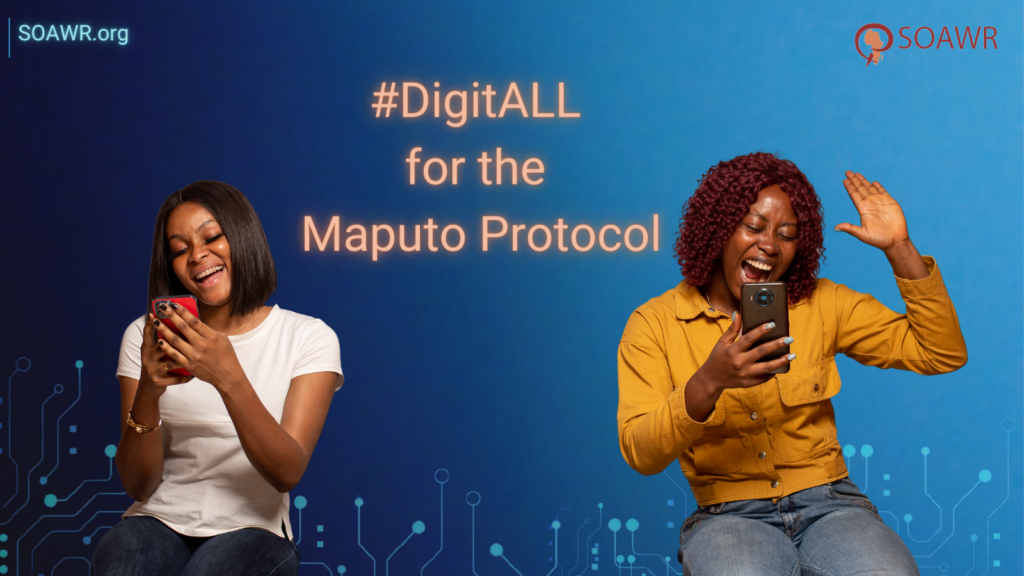 Further resources: 
i) By Africans, for Africans: 
ii) International resources: