Kadirat a été créée en 2004 par un groupe de militantes tunisiennes qui ont une longue expérience de l'activisme de la société civile, qui ont dirigé d'autres OSC et qui sont membres de différents réseaux nationaux, régionaux et internationaux. Kadirat se concentre sur les droits des femmes, tels que la participation politique, l'autonomisation économique, la lutte contre la violence envers les femmes et les enfants et le plaidoyer pour une réforme de la loi sur l'égalité des sexes et la violence envers les femmes.
Plus récemment, Kadirat a réussi à plaider pour la mise en œuvre du Protocole de Maputo par la Tunisie, en analysant les lois qui doivent être modifiées ou adoptées conformément au Protocole et en plaidant ensuite pour une réforme législative. Ils ont également produit un document de domestication pour guider le plaidoyer en Tunisie. En outre, Kadirat a cherché à développer les réseaux régionaux composés d'organisations de défense des droits des femmes en Algérie, en Égypte, en Libye, en Mauritanie, au Maroc et dans la République arabe sahraouie démocratique. En outre, Kadirat visait à populariser le protocole de Maputo et à former les acteurs clés, tels que les OSC, les magistrats et les avocats.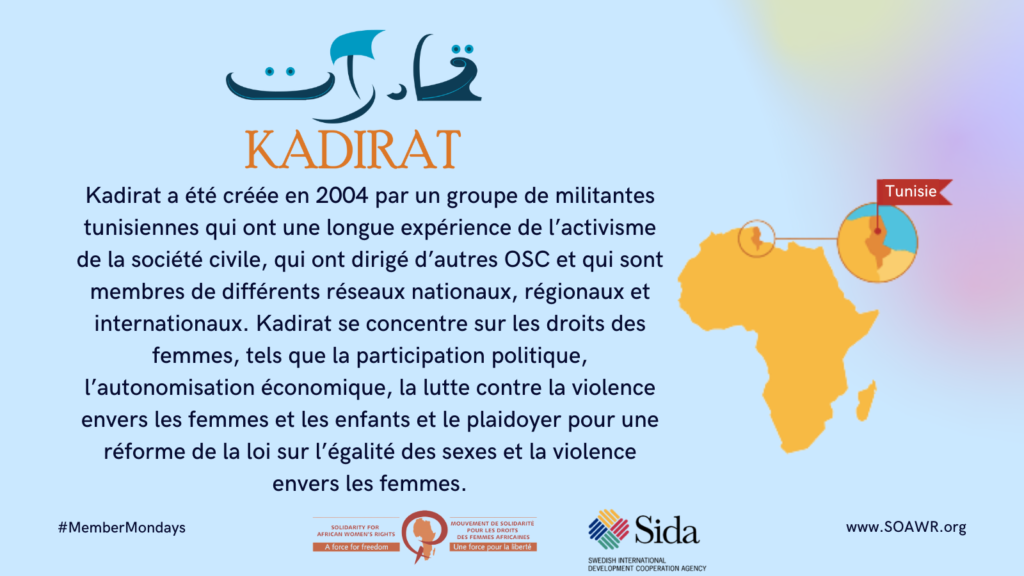 Kadirat was formed in 2004 by a group of Tunisian women activists who have a long experience in civil society activism, who headed other CSO's and who are members of different national, regional and international networks. Kadirat focuses on women's rights such as political participation, economic empowerment, ending GBV/VAWG and advocating for law reform on gender equality and VAWG.
Most recently, Kadirat has been successful in advocating for the implementation of the Maputo Protocol by Tunisia, by analysing laws that need to be amended or adopted in line with the Protocol and thereafter advocating for law reform. They also produced a domestication document to guide the advocacy in Tunisia. Furthermore, Kadirat aims to grow the regional networks composed of women's rights organisations in Algeria, Egypt, Libya, Mauritania, Morocco and the Sahrawi Arab Democratic Republic. Additionally, Kadirat aims to popularise the Maputo Protocol and train key actors, such as CSOs, magistrates and lawyers.