L'ONG RESEAU DES FEMMES LEADERS POUR LE DEVELOPPEMENT (Bénin) a pour objectif général de promouvoir le développement durable. Ses objectifs spécifiques sont de : promouvoir l'égalité de genre ; encourager l'engagement civique ; sensibiliser la population sur l'importance de la paix à travers des formations ; encourager les initiatives qui promeuvent l'éducation de qualité.
Les domaines d'iterventions du RFLD sont: Droits des Femmes, l'Education de Quatlité, l'Engagement Civique, la Paix, et le DéveloppementLe Réseau des Femmes Leaders pour le Développement (RFLD) a pour mission de renforcer les capacités des populations à travers des programmes de sensibilisation, formation et éducation, et un plaidoyer efficace à l'aide des technologies de communication.
RFLD est une organisation à but non lucratif dont la vision est de bâtir une coopération de partenariat effectif de développement à travers l'implication des acteurs étatiques et non étatiques pour promouvoir et protéger les droits des jeunes et femmes, et garantir une participation dans les sphères de décisions.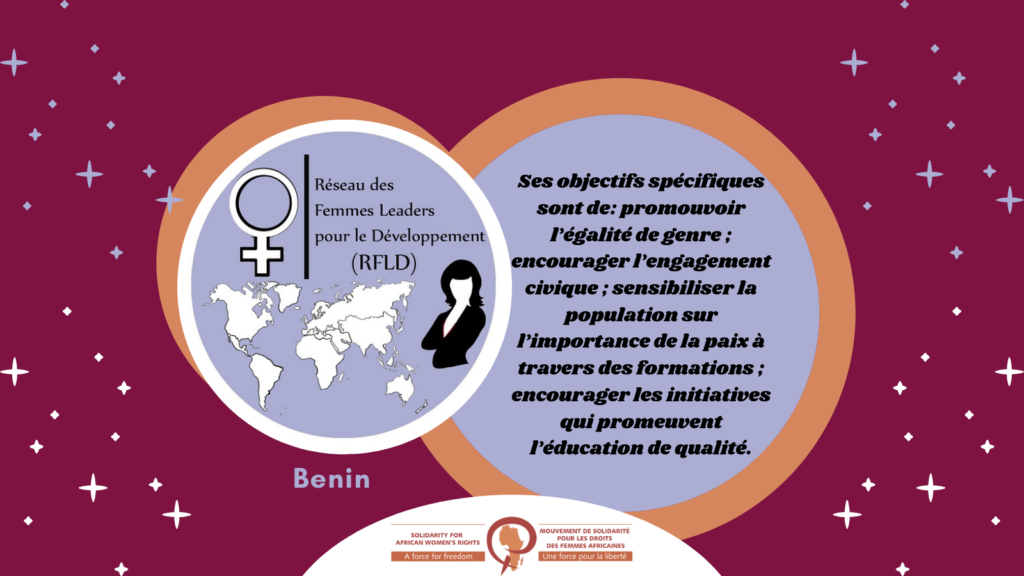 The general objective of the NGO NETWORK OF WOMEN LEADERS FOR DEVELOPMENT (Benin) is to promote sustainable development. Its specific objectives are to: promote gender equality; encourage civic engagement; sensitise the population on the importance of peace through training; encourage initiatives that promote quality education.
The areas of activity of the RFLD are: Women's Rights, Quality Education, Civic Engagement, Peace, and Development The Network of Women Leaders for Development (RFLD) has for mission to strengthen the capacities of the populations to through awareness programs, training and education, and effective advocacy using communication technologies.
RFLD is a non-profit organisation whose vision is to build an effective development partnership cooperation through the involvement of state and non-state actors to promote and protect the rights of young people and women, and guarantee participation in the spheres decisions.